2022 Beach Trip Must-haves
Sunshine, breezy, beach, and cool drink are the best impressions of summer. As your beach trip plans are confirmed, how to dress for the exciting activities at the seaside? Take it easy, it's time to finish your outfit plans with our Beach Trip Must-haves. Retro Stage perfectly combines past and modern fashion to achieve a unique vintage style, whether retro-style lovers or modern fashion lovers, you can find beach outfits here. Welcome to peruse our favorites list and then enjoy a happy summer.
Summer is not complete without a swimsuit! Whether you're going for a swim, a sunbath, or an exciting adventure at seaside, a perfect swimsuit can always make you enjoy yourself and have fun. Whether it's a one-piece swimsuit or a bikini set, you can find it at Retro Stage.
One-piece Swimsuits
One-piece swimsuits have always been loved. They can not only cover the fat around the waist to show a charming figure, but also protect the body and skin from some possible sources of allergy when doing seaside activities. If you want to experiment with a lively style, you can start with a bright and vivid yellow Checked Halter Bowknot One-piece Swimsuit or V-neck One-piece Swimsuit. For those who like sweet style, this Cherry Summer One-piece Swimsuit can help you complete the sweet look. Besides, we also designed animal swimsuits for those who like unique styles, such as the butterfly-patterned Halter One-piece swimsuit or Jaguar-patterned Green Halter One-piece Swimsuit.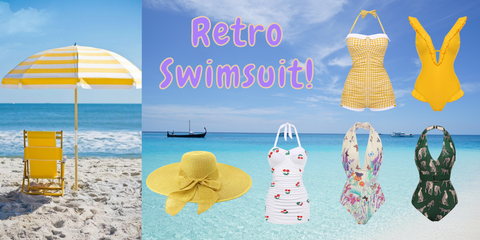 Bikini Sets
Nobody could say no to bikini set. Whether the fresh daisy-printed Green Summer Strap Bikini Set or Three-piece Red Pinup Girl Bikini Set with tropical prints, we can provide many choices for different styles. In addition to the cherry one-piece swimsuit, we also have Light Green Cherry Summer Halter Bikini Set. Compared to one-piece swimsuits, bikini suits allow more of your body to be bathed in the sun and give a more free feeling. More importantly, our bikini suits are all high-waist designs that won't restrict any movement, especially beach sports. You can enjoy beach volleyball in Navy Blue Spaghetti Buttons Bikini Set or Wine Red Bow Halter Bikini Set.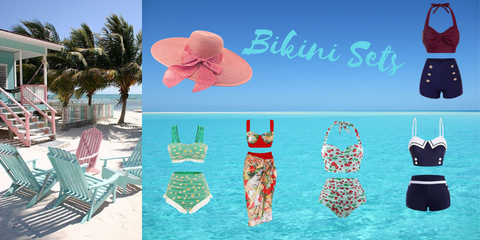 Besides seaside activities, you may also want to take a good rest and get away from the heavy work. Well, short skirts and rompers are the excellent choices for a late morning brunch or a relaxing afternoon at the beach. For example, take a walk by the sea, feel the gentle sea breeze and soak up the sun in a sky blue 1950s Polka Dots Bow Swing Dress or 1950s Plaid Belt Swing Dress. You can also enjoy a beach picnic with friends and family in a Red Bodysuit & Denim Blue Buttons Shorts or Navy Blue Patchwork Off-shoulder Striped Romper. Besides, you can even go shopping at the beach store with your friends in a loose and comfortable Yellow Floral Swing Romper which will make you be complimented by the people you meet.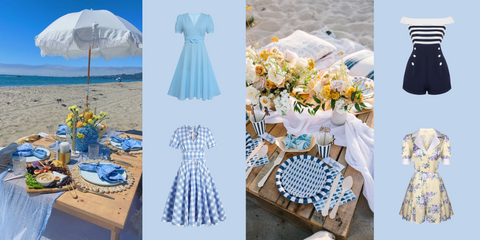 When night falls, it's time to go to the beach party in a gorgeous and sophisticated dress, like Sky Blue 1950s Off Shoulder Dots Dress and Sky Blue 1950s Strap Polka Dot Swing Dress to perfectly show your graceful femininity. Or wearing a banana leaves printed Green Lace-up Dress or butterfly-printed Light Pink Lace-up Dress to dance with friends as if you are in the natural stage. Trust us, you are the unique one in the spotlight when you are dancing in the crowd. If you're a cute and lively girl, the Strawberry-printed Pink Halter Dress will instantly make you a sought-after dance partner, sparkling in colorful lights.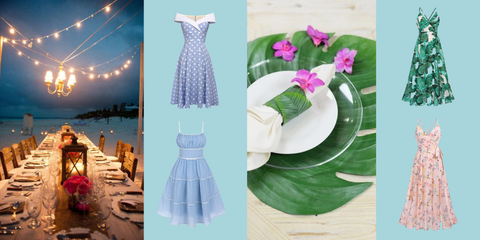 Loving these Beach Trip Must-Haves? Discover these styles and more at Retro Stage today! When everything is ready, you can start having fun in the whole summer. Come and pick your favorite Beach Trip must-haves.