You Will Fall In Love With These Valentine's Day Vintage Fashion Outfit At Retro Stage
You Will Fall In Love With These Valentine's Day Vintage Fashion Outfit At Retro Stage
The most romantic day of the year is just around the corner, and whether you're planning an unforgettable date, a party with friends to celebrate, or getting dressed for an exhibition, retro stage will give you the best outfit ideas! For those of you who love vintage, we have prepared a number of romantic head-to-toe vintage dressings on Valentine's Day. Love is timeless, let's travel back to valentine's Day in the 1950s and 1960s and experience a retro and glamorous love experience!
Pink Mermaid Ariel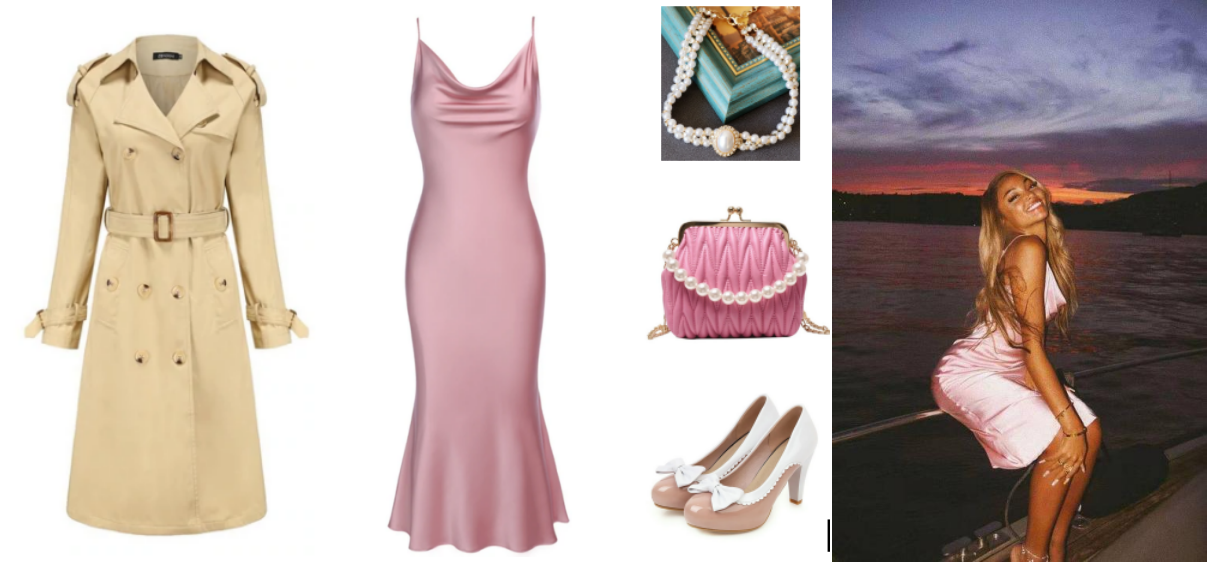 When was the last time you wore a fishtail slip dress? This time it's something different! Adjustable straps with a loose design neckline on the bust show full feminine charm. Silky fabric and fitting design give you a wonderful wearing experience and show your curve. Pair it with our retro rhinestone pearl necklace and a pink pearl chain frame bag to create the perfect outfit on this day! You can also fit with the khaki belt coat, the perfect complement, let you become the stunning focus in dating. Ladies, you should try this pink slip dress on Valentine's Day, a festival of pink bubbles, love, romance, and retro stage!  
Midnight Rose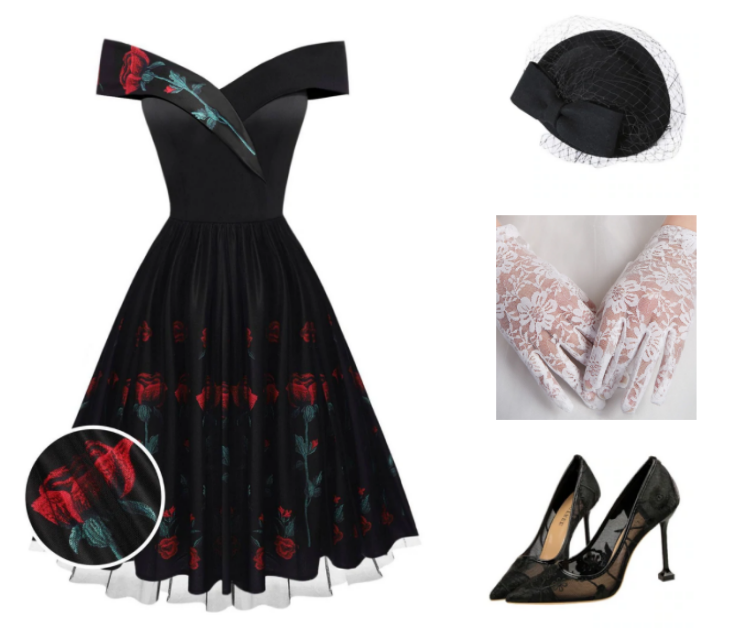 If you like roses, then this 1950s off-shoulder dress is undoubtedly your best choice for Valentine's Day! The black dress is decorated with bouquets of roses that symbolize romance. The dress is covered with a layer of dreamy black gauze. You are just like a goddess descending from the night, and the rose on your shoulder represents your pure faith in love. Which lady is not obsessed with this midnight rose? With our white retro floral lace sheer gloves and black bow mesh wooled dress hat, you will become a real 1950s lady! I think you also need a pair of floral lace décor pointed shoes, what the best gift for lace lovers!     
Autumn Whispers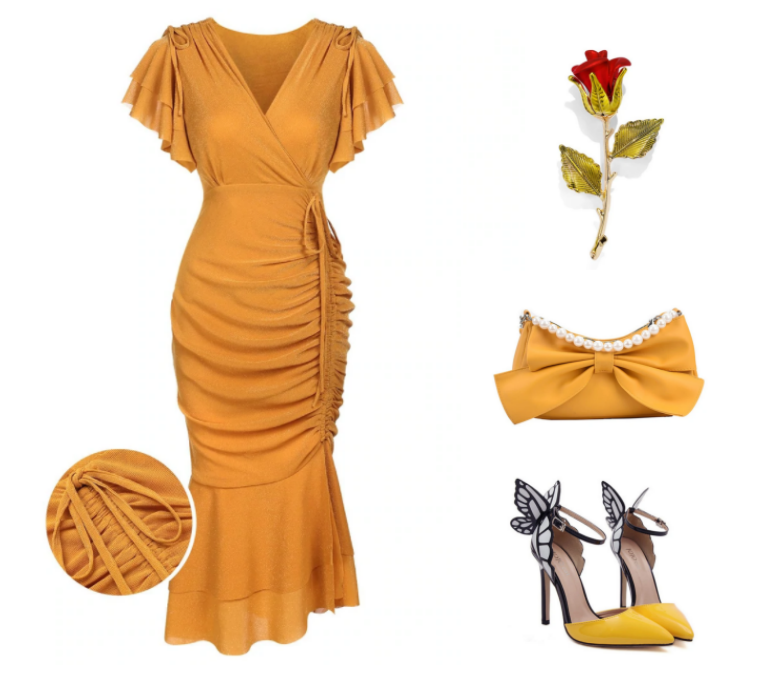 Walking slowly from the autumn sunset in a knee-length fishtail orange dress, this 1960s orange ruffle lace-up fishtail dress is the perfect choice for your elegance and classic. The ties at the shoulders and waist add a touch of fashion. The layered design of the shoulders makes this dress no longer mediocre. The ruffle on the legs visually achieves the effect of covering the fat on the legs. Ladies' favorite fishtail skirt, it's hard not to fall in love with such a perfect dress! Pair it with our orange bowknot pearl solid underarm bag and butterfly pointed shoes, and a red-painted rose brooch on your shoulders for a stunning Valentine's Day fashion look!
The Flaming Lips
You must be a passionate lady, darling! Showing your charm is not only on Valentine's Day! This red 1960s solid halter bodycon dress is for looking great any time. The fitting waistline fully shows your figure curve. The front of the dress adopts the design of beveled splicing from top to bottom. Halter ties into a charming bow on the back, fully integrating the classic 60s and modern design. We won't forget to add glamour to your overall dressing, So we have specially prepared a classic red and white combination for you: retro silky bowknot split gloves, pearl solid clutch bag, and bowknot high heels shoes. Wearing soft and smooth white bow gloves, holding a white pearl clutch bag, and stepping on high heels with white bows, wow, who isn't amazed by your outfit?
Sweet Memory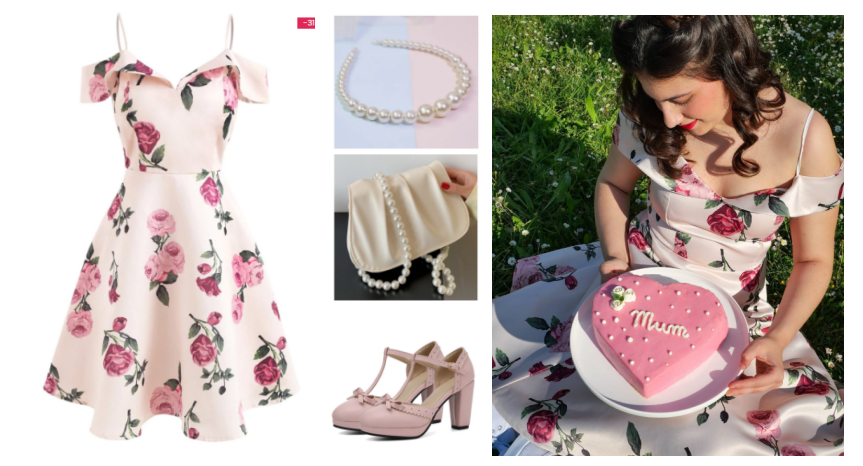 Every girl has a sweet memory. On this most romantic day, why not try to relive the sweet love that you will never forget? Today, we have prepared a 1950s rose-pink dress that makes you feel like you are in love. Who wouldn't be surprised to see such a gorgeous dress? There is also the off-shoulder design under the sling, which adds elegance to your romance. The slim waistline and bouffant hem make you a princess Aurora in the rose garden! Don't forget to wear the white pearls headband we have prepared for you, you will be amazed at how beautiful you look. It's also a great dress for your daily routine, so put on the white pearl saddlebag and be an elf in the city!
Plaid Beauty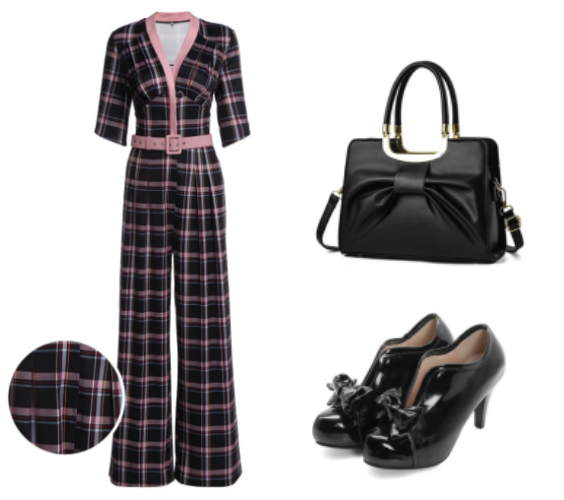 Don't worry, whether it's Valentine's Day for two or alone, we have carefully prepared a fashion outfit plan for you. This is a pink plaid 1950s belted jumpsuit. If you don't want to wear a skirt, this would be your best choice! The pink V-neck hem has a hidden zipper for easy wear on and off, and the detachable pink belt successfully creates a fashionable and classic look. The half sleeves have unique openings on the side and two pockets for easy storage on the back of the pants. I believe that the jumpsuit will help you get your body proportions up nicely. Paired with our leather black solid ladies' bowknot handbag, the bag has a detachable side strap that you can carry or cross over. Ankle french high heel shoes help you get the gorgeous Valentine's 1950s outfit!
Strawberry Sweetheart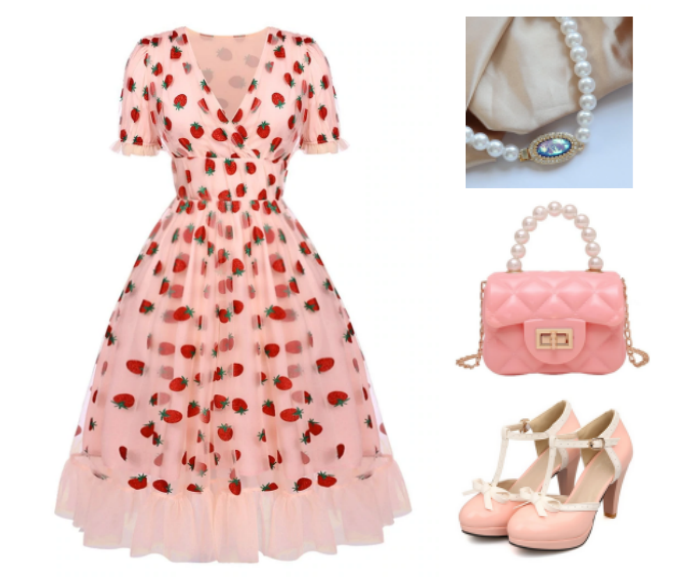 Wait, who fell into this strawberry sweet dream? Wrapped in strawberry printed lace combined with a pink dress, ladies will be obsessed with the perfect dress! The cuffs and skirts are wrapped in a design like strawberry cream cake, how can you not take a bite? Fitting waistline for curve-hugging, the v-neck design on the chest leaves room for wearing accessories. We have carefully selected the rhinestone pearl necklace for you, the pearl and strawberry skirt is a perfect match! Pink pearl chain handbag that you can carry or cross over. Pink bow t-strap high heels shoes are also available for your gorgeous look. Ladies, get ready for everyone's compliments!
Wine Monroe
The classic off-shoulder never goes out of style. We brought the velvet bodycon dress, the chest crossed neckline shows your grace, the off-shoulder design shows your sexy collarbone, the back zipper design is easy to slip on and off. You can pair it with our rose brooch at the neckline to create a gorgeous look, and it also frees up space at the waist to decorate with other items. It can also be paired with a pearl lace cross-body bag to add sweetness to the elegance. In addition, we also have a dark green version, so you won't miss this beautiful dress if you like green! We also have a white retro pearl bow knot hat to add glamour to your outfit, come and get this dress that will make you bloom, Ladies!