WELCOME TO THE 1920S GLAMOUR
Fashion History of the 1920s
The "Jazz Age" or the "Roaring Age" is the common label of this lavish and feasting era. Women gained unprecedented freedom and liberation during this period, and a flapper was born. The "Flapper Girls" were beautiful, trendy, and thoughtful. They ditched the traditional bondage of a reserved lady, throwing away corsets, cutting their long hair, and expressing their true selves in boyish suit silhouettes and nifty short hair. Women's clothing broke through tradition and made innovations bravely. 
"The crazy 20s" is often associated with its glitz and glamour. The roaring twenties' vivid image is hungry and wild, rebellious, flashy, and innovative. After World War I, there was a frenzy for peace and joy. All kinds of dances parties prevailed. With the sweat and joy of ballroom dancing, hysterical jazz, and whirling Charleston, people were venting the trauma and anxiety brought by the war. In 1920, women gained the right to vote and strive for social equality. Designer Paul Poiret abolished nearly 200 years of corsets, ushering in a fashion revolution that made women's wear more relaxed and simple. Women's clothing began to change to a style that highlights the natural body posture.
"We're young and hungry, wild and free. Our waists are round about the hips. Skirts are well above the knee. We've boyish busts and Eton crops." - written by James Laver, The Women of 1926.
Dress
The Great Gatsby, the classic film about the "Jazz Age," shows a lot of free-spirited, passionate, and extravagant clothes. In the hustle and bustle of the 1920s, influenced by Art Deco, the iconic decorative fashion in the 1920s is exquisite and complicated, beading full of femininity. Loose and low-waisted dresses decorated with pearls, sequins, and fringe gradually became mainstream. The linear modeling of women's apparel is more emphasized. The waist is lower than the regular waist, and the skirt is longer than the knee, exposing the calf, making a breakthrough of the appearance of women's dress. The whole dress is loose and straight, showing the line beauty of the natural human body.

Fashion is a full circle, and what has been popular will always be inspired again.
Today, Retro Stage is where you can find clothes from over 100 years ago that still fit in your wardrobe. Now dancing with the Great Gatsby flapper dress take you back to the roaring 1920s.
The Black 1920s sequin maxi flapper dress for cocktail parties combines a modern touch that will make you gorgeous and glamorous. You can dress this slim, floor-length dress paired with black long-sleeved gloves and a headband for a retro 1920s ball. The collarbone hollowed design is adorned with leaf textures, showing your attractive collarbone. You can show off your sexy back too!

You'll be amazed at how gorgeous you are when you're standing in front of the mirror in this classic fringed champagne, 1920s sequined flapper dress. The shining sequins, tassels, and intricate floral decor symbolize the wild 20s.

Exquisite black lace with elegant pink, stunning! Was a 1920s lace dress ever your dream? The pink 1920s sequin evening dress will make your vintage dream come true.

Want to be a real Gatsby lady? Try this belted black 1920s fringe Gatsby dress, long tassels to satisfy your pleasure. You can be dancing like a real 1920s beauty and swaying your body with these great tassels!
Hair
Bob was the dominant hairstyle for women in the 1920s. During World War I (1914-18), Due to the shortage of male labor, some women entered male-dominated occupations traditionally. Women replaced men in many workplaces, including factories and fields. Using machines means the hair is inconvenient and time-consuming. Therefore, shortening it is one way to solve the problem. The length of this popular Bob hairstyle is generally below the ears, and above the shoulders, with the thickest hair on the back. The whole head is rounded if you look at it from the side.
In addition to the Bob, there are also short wavy hairstyles. Finger wavy hair is trendy. There are soft and angular shapes. Its S-shaped waves do not rely on heating tools such as curling irons but the stylist's fingers and comb. Wavy hairstyles also reflected the Art Deco of the time.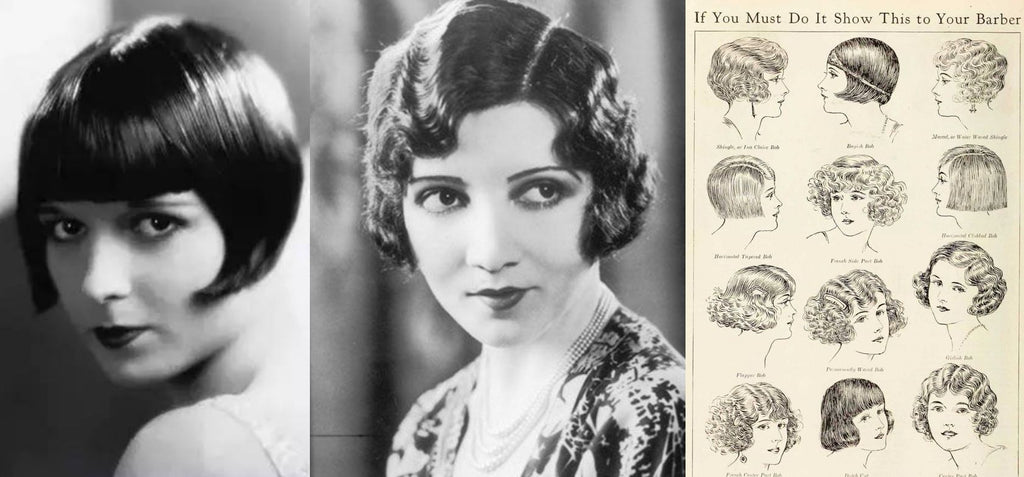 Accessories
Hair accessories: Although their hair is short, they still wear all kinds of intricate hair accessories on their heads, and they are incredibly luxurious. A ribbon is tied around the forehead, sometimes decorated with beads, tassels, and feathers. Exquisite and intricate beading with a feminine touch ran through 20s fashion. There were also pearly hair accessories, and the women's heads shone brightly. At Retro Stage you can shop 1920s accessories to decor your head on the dance floor in the 1920s.


Hat: The 1920s classic cloche hat was always worn low to the eye, and these circular, close-fitting hats show a sense of mystery of 1920s women. Skull Cap was also one of the distinctive symbols of the 20s, sometimes with a fringe of beads on a hairnet or a cloth cap entirely covered in beads or braid.

Necklace: Pearls are a must-have item for showcasing luxury in the jazz revelry. A long Pearl necklace is usually worn twisted around the neck. Sometimes women wear pearl necklaces behind the ears. Coco Chanel, one of the most influential fashion designers in the 1920s, was also a pearl lover, and Chanel's long pearl necklace was a popular item at that time.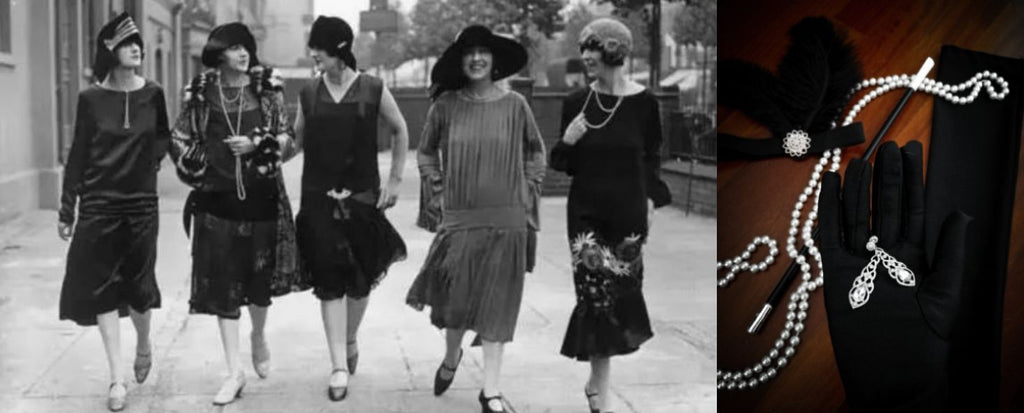 Long cigarette holder: Long black cigarette holders were also a symbol of 1920 fashion. In this era, not only the luxurious and exaggerated effect is emphasized in jewelry and accessories, but to achieve eye-catching effects, long cigarette holders have also become fashionable, and smoking has become a fashion.